On Saturday evening, in a ceremony at Cambridge University, Mrs. Shahame Dizaei was able to receive a certificate of appreciation for the best entrepreneurial company in England. This achievement came after Mrs. Dizaei had achieved increasing success in the field of protection companies and had won numerous titles in this field.
Mrs. Shahameh Dizaei was born on July 2, 1975. She is a British citizen and lives in London, Dubai and Marbella.
She is a director at Covert Security Ltd., a well-known British business with a global reputation.
She has a degree in Business Administration and employs over 100 people. Her special interests are property development and manufacturing unique cosmetics. She has a huge property development portfolio in both Marbella and London and she is currently trying to launch her own skincare brand.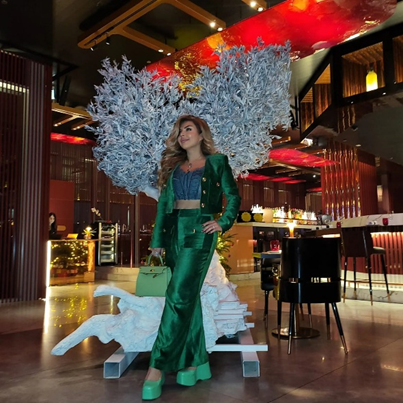 She is an Instagram influencer with over 500,000 followers worldwide.
Her activities on Instagram are enjoyed by thousands, and many of her followers regard her as a role model.
As a Legacy member of Annabelle's club, Home House and Tramp in London, and Art Club Member in Dubai, she is well-known in London's social circles.
Mrs. Shehame Dizaei said: I am very pleased that in such a short amount of time I was able to achieve what I deserved after many years of effort and study, and I owe this success to the assistance of my dear husband, Mr. Ali Dizaei.
Mrs. Dizaei talks about success in both personal and professional life: In personal life, success is achieving things that make a person's family safe and peaceful, but in work, there are missions that people imagine in various parts. You can work in the social or economic sectors throughout your life!
I started a job that was customary and morally wrong for women in society or culture as the first woman in an entrepreneurial company! Additionally, I believe that this action has the potential to pave the way for a great number of other women to follow! Naturally, this is a component of work ideology. But in the human dimension of social work, there are movements, including the think tank I run, where the discussion is about starting a business for young people who are university educated and have a dream of working in society. You see success when we have created an organization, an income, and a job, and we see success in ourselves and that organization. However, in times of crisis, for instance: They develop a series of anomalies in their minds when they are unable to work or do the work they enjoy. It is our responsibility to teach them how to start a business step by step. In point of fact, the same well-known saying states that Give a man a fish and you feed him for a day; teach a man to fish and you feed him for a lifetime.