The life of a kid athlete is not easy. Not only do they have to work hard to make their name in the field, but they also have to manage education hand-in-hand. It takes immense dedication, passion, and talent to be a successful athlete, even more so when you're still in school. For many young athletes, sport is their entire life. They train daily, even while most kids their age are out playing. They miss social events and sleepovers because they have early morning training sessions or competitions on weekends. All this takes a toll on their bodies and minds, but they continue pursuing their dreams because they know the payoff is worth it. When they see their name in light or receive the admiration of their peers, it makes all the sacrifices worthwhile.
Zain Ali Muhammad, also known as Zain Hollywood, is a young athlete who competes in many sports. He is just nine years old. In Austin, Texas, Zain resides with his mother and father, Wali Rahim Muhammad and Ebony Amber Charles, as well as two of his elder siblings and one of his younger siblings.
Zain is extremely fortunate to have parents that take an interest in their child's activities and encourage him to strive for greater success. Zain is a 19-time champion in flag football, including three world titles at three different levels, and it is because of his parents' efforts that he can achieve this level of success.
Zain stated that he had always been interested in sports, even when he was very young. His father had seen his son's potential even at an early age.
"When he was six months old, he tossed his bottle across the room. It went in something of a spiral, and I couldn't help but get a smirk on my face and thought, that's my guy." Quoted Wali Muhammad, Zain's dad.
This little genius only started throwing the ball, shaking and baking, and doing all the other stuff when he was just five years old.
At the age of six, Zain began playing flag football with the Cedar Park Bulldogs Flag football organization, which competes against many other leagues in the city. During both the regular season and the playoff season, Zain was named the most valuable player. Zain continues to make the most of his athletic career by participating in the Cedar Park Bulldogs Flag football club and playing for the team.
Social Media Phenomenon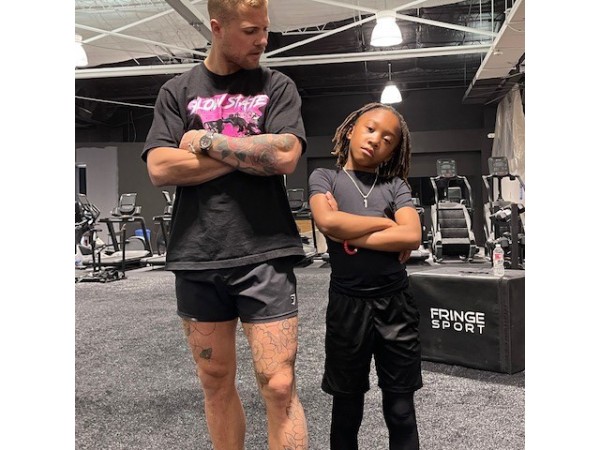 With all of the success that this young prodigy has obtained, he continues to get attention on various social media platforms. However, unsupervised use of social media can harm children, particularly if the youngster is a social media sensation. The fact that Zain's parents allow him limited access to the internet is evidence that they have complete faith in their son. His parents, Wali and Ebony, are the ones that manage his Instagram account. There, they post all of the behind-the-scenes videos from his games, practices, and other activities he engages in for pleasure while at home.
Under the account @zain­_hollywood, Zain may be followed on the social media platforms Instagram, Twitter, and Facebook, as well as TikTok.
Zain has become a phenomenon on the internet as a consequence of his excellent talents and the broad exposure he has received via various forms of social media. Since he began his training when he was five years old, he has gone viral on several different platforms due to the outstanding results he has achieved at such a young age. NBC referred to him as "Lamar Jackson 2.0" while discussing him on Sunday Night Football. Additionally, he was featured as the number one quarterback prospect for the class of 2030 on Sports Center on ESPN, WSB Channel 2, and KVUE, as well as Overtime and Oh My Goal on ABC Action News.
The power of social media has allowed Zain's talents to be seen and appreciated by millions of people worldwide.
The Young Entrepreneur
Zain's journey to becoming a successful young athlete is made even more impressive by the fact that he has also launched his own brand. His custom shoes, with their distinctive logo, have become hugely popular with fans, and his apparel line can be found on the Fan Arch website. Zain's commitment to excellence extends beyond the playing field, and his determination to build a successful personal brand is an inspiration to others. With his sights firmly set on the future, Zain is poised to make even more incredible strides in the years to come.