Munroe Island:
A bunch of islands straight out of fantasies, Munroe Island involves an aggregate gathering of 8 distinct islets. Interconnected with one another with a turquoise organization of channels, this gathering of islands is around 27km structure the core of Kollam, and is a much-sought-after objective among the guests.
Edged with evergreen coconut forests, these islands can be known as the encapsulation of quietness and serenity. Whether on a family get-away, special first night trip, hiking trails, or nonchalantly holidaying, you can knock on the Munroe Island whenever or during any piece of the year.
Best time to visit:
October to May
Tourist Attractions:
Island Hoping, Boating, Kallada River, Ashtamudi Lake, Wonderla Amusement Park, Kerala Kathakali Centre, Jew Town, Mattancherry Palace, Paradesi Synagogue, Santa Cruz Basilica.
Nearest Airport:
Trivandrum International Airport (97km)
Nearest Railway Station:
Kollam Railway Station (25km)
Varkala:
Displaying its thoughtful excellence and appeal while having a tryst with the Arabian Sea, Varkala is doubtlessly one of the most flawless and most ideal getaway destinations in Kerala! A multicolored beach front town in Trivandrum, this is truth be told the main spot in God's Own Country where bluffs are found close by the ocean line.
While being an area of interest among the ocean side sweethearts, Varkala is likewise known for the old Janardana Swami Temple that traces all the way back to 2,000 years. In the event that you are making arrangements for a Kerala trip, ensure you visit this curious town; it will keep you stunned all through with its perfect magnificence, dedicated feeling, and energetic ocean side!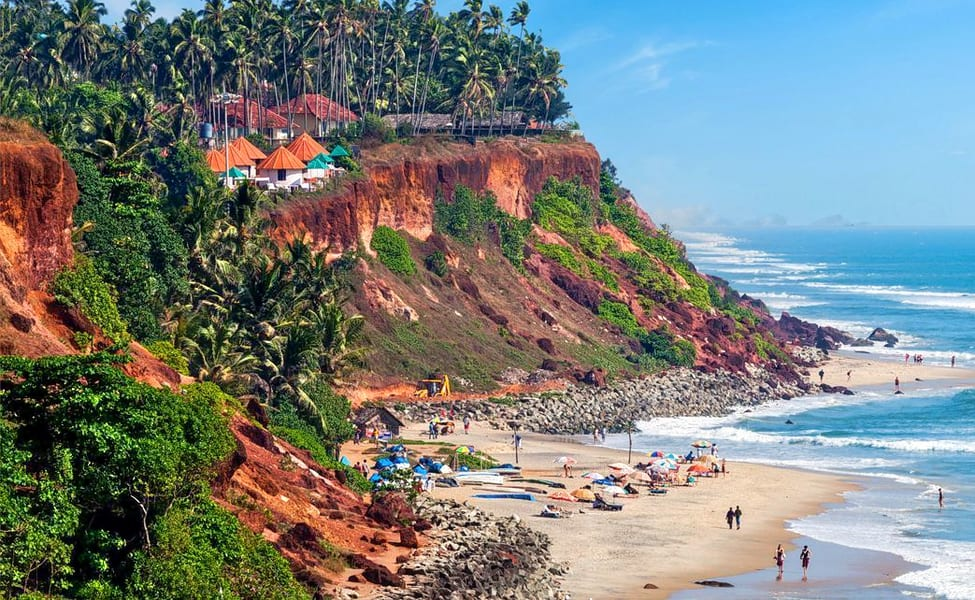 Best time to visit:
Year-round Destination
Tourist Attractions:
Paragliding, Varkala Beach, Thiruvambadi Beach, Edava Beach, Kappil Beach, Papanasam Beach, 590 Cliff, Anjengo Fort, Sivagiri Mutt, Janardhanaswamy Temple, Ponnumthuruthu Island, Varkala Tunnel, Vishnu Temple, Varkala Aquarium, KaduvayilJuma Masjid, Varkala Lighthouse.
Nearest Airport:
Trivandrum International Airport (36km)
Nearest Railway Station:
VarkalaSivagiri Railway Station
Thiruvananthapuram:
The capital city of God's Own Country, Thiruvananthapuram or Trivandrum, or the 'Evergreen City of India' is likewise the biggest city in the state. Situated at the south-western edge of Kerala, this city is the ideal illustration of how provincial life gets blended in with the contemporary approach to everyday life.
Dabbed with various places of interest, spots of verifiable significance, beautiful sea shores, and considerably more, Trivandrum is a genuine gold mine among guests from every one of the different backgrounds. Evaluated as one of the best Indian urban communities to live in, Thiruvananthapuram can likewise be known as the 'Economic Capital' of Kerala.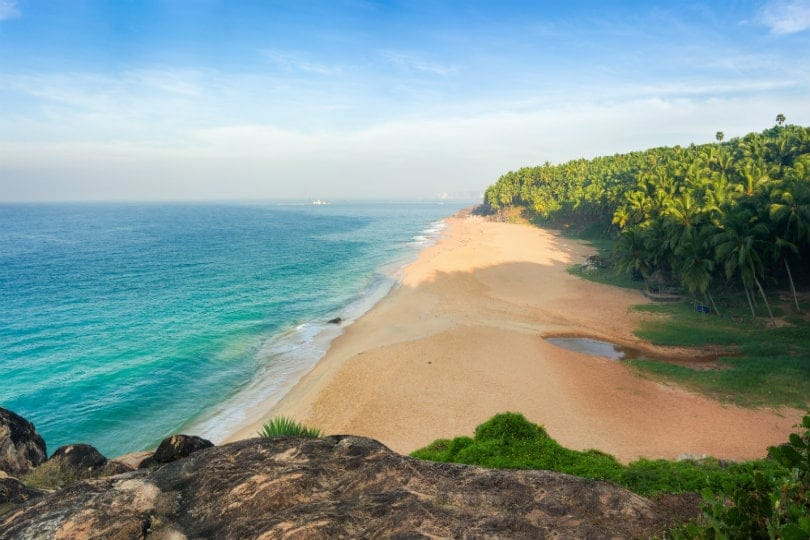 Best time to visit:
Summer (March – June), Winter (October – February), Monsoon (July – September)
Tourist Attractions:
Aaranmula Boat Race, Trekking, Meenmutty Falls, Golden Valley, Peppara Wildlife Sanctuary, Shendurney Wildlife Sanctuary, Mankkayam Falls, Kallar, Koyikkal Palace, Agasthyamalai Biosphere Reserve, Sri Krishna Swami Temple.
Nearest Airport:
Trivandrum International Airport
Nearest Railway Station:
Trivandrum Central Railway Station
Malappuram:
When a military settle, Malappuram or the 'City of Hills' or 'Soccer City of Kerala' could be quite possibly of the best thing happening to you! You should simply, plan a visit to this flawless peak city, and you would most likely get charmingly lost inside its dumbfounding vibe.
Arranged in the southern corner of Kerala, this picturesque city wears a hazy viewpoint for the majority of the year, and draws an enormous number of travelers from the nation over. Be it normal allure, memorable importance, traveler exercises, spots of attractions, or even to laze around, you will see as more than adequate of components to keep yourself drenched with fun-skip while in Malappuram.
Best time to visit:
July (Early Monsoon) to March (Winter End)
Tourist Attractions:
Keralamkundu Waterfalls, Kadalundi Bird Sanctuary, Koottayi Beach, Padinharekara Beach, BiyyamKayal, Up & Down Hill, Kottakkunnu, Panakkad, Shanthitheeram, Arimbra Hills, Teak Museum, Anakkayam, Melmuri, Malappuram Juma Masjid, Thiruppuranthaka Temple, Mannoor Shiva Temple.
Nearest Airport:
Calicut International Airport (38km)
Nearest Railway Station:
Angadipuram Railway Station (17km)
Nelliampathy:
Assuming that Kerala is known as the 'God's Own Country', Nelliampathy (or Nelliampathi) is affectionately called the 'God's Own Village'! Situated around 60km from Palakkad, this curious villa is one of the least investigated and similarly shocking hill stations in Kerala.
With an enamoring scope of slopes that take off up to a dumbfounding level of 467-1,572m, Nelliampathy fills in as an optimal escape to appreciate and delight in the appealing appeal of India's Backwater Capital. With grand pinnacles, rough paths, and around 10-barrette twists, this minuscule, yet enchanting slope station likewise fills in as an area of interest among the rush and fun searchers.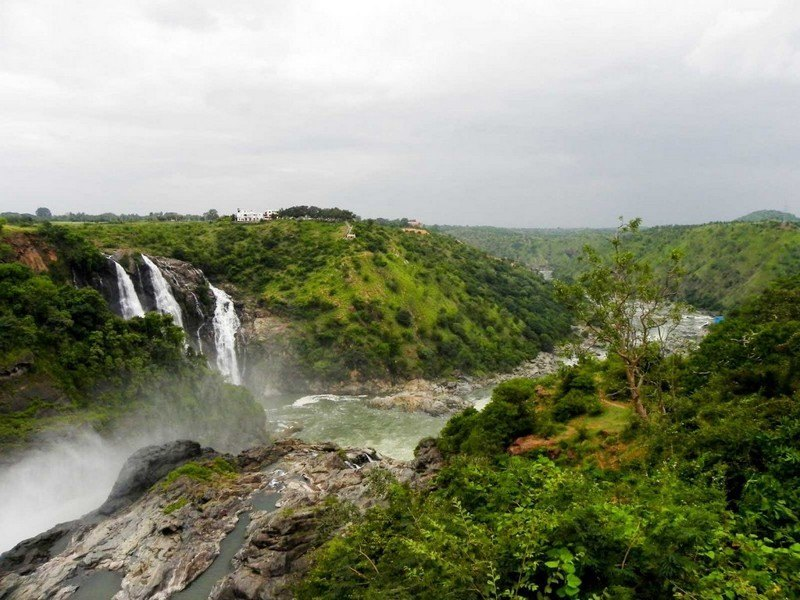 Best time to visit:
October (Pre-Winter) to March (Early Summer)
Tourist Attractions:
Trekking, Boating, Nelliyampathy Hills, Parambikulam Wildlife Sanctuary, Nenmara, Palagapandi Estate, Seetharkundu Viewpoint, Padagiri, Raja's Cliff, Pothundi Reservoir, Malampuzha Gardens, Nelliyampathy Gardens.
Nearest Airport:
Trivandrum International Airport (97km)
Nearest Railway Station:
Palakkad Railway Station
Marari:
In all honesty, however Goa alone can't be known as the heaven for ocean side sweethearts and different vacationers the same! What's more, assuming there is some other spot in India that can be similarly contrasted and Goa, it must be Kerala. All things considered, to know why, you should design a visit to the Marari Beach in the Alleppey locale of Kerala!
Quite possibly of the most dazzling ocean side in the whole country, Marari Beach will certainly cause you to fail to remember some other sea shores in India. Evaluated among the main five 'Lounger Beaches' by National Geographic, this virgin ocean side ends up being a magnificent spot to laze around, appreciate sun luxuriating, enjoy ocean side exercises, and part more!
Best time to visit:
September (Monsoon End) to May (Summer End)
Tourist Attractions:
Beach Activities, Thumpolly Beach, Alappuzha Beach, Cherthala, The Dutch Palace, Chinese Fishing Nets, St. Andres Church, Mararikulam Shiva Temple, Aroor, Arthunkal, Poochakkal.
Nearest Airport:
Cochin International Airport (90km)
Nearest Railway Station:
Mararikulam Railway Station (3km)
Palakkad:
Palakkad or the 'Gateway to Kerala' is really a heaven for the nature sweethearts and admirers. Arranged at the lower regions of the strong Western Ghats, this grand land is written with lavish and evergreen vegetation all through, and is revered as the 'Storage facility of Kerala'.
Soaks with a superb past, decked with different scope of customs, societies, craftsmanship and music, and the native Malabar way of living, Palakkad definitely meets all requirements for a characteristic fortune in Kerala's travel industry map. Likewise, the heat and humidity that wins in this perfect city, makes it a not-to-be missed spot to visit in Kerala.
Best time to visit:
July (Mid-Monsoon) to March (Winter End)
Tourist Attractions:
Palakkad Fort, Silent Valley National Park, Parambikulam Wild Life Sanctuary, Mayiladumpara Peacock Sanctuary, Malampuzha Dam and Gardens, Attappadi, Kava View Point, Rock Garden, Siruvani Reservoir, Kanjirapuzha Reservoir, Dhoni Forest (Trekking), Kalpathy Heritage Village and Temple Complex, Nelliyampathy Hills, Pothundi Dam and Reservoir, Mangalam Dam, Tipu's Fort, ThiruvalathurRanduMoorthy Temple, Jain Temple, Vadakkanthara Temple, Manapullikaavu, KalpathyAgraharam and Vishwanathaswamy Temple, KumarapuramTemple, EmoorBhagavathyTemple, Thiruvalathoor Shiva Temple.
Nearest Airport:
Peelamedu Airport (Coimbatore, Tamil Nadu) (43km), Kochi International Airport (96km)
Nearest Railway Station:
Palakkad Junction (Broad Gauge Line), Palakkad Town Railway Station (Narrow Gauge Line)
Poovar:
While in the Poovar Beach, you can observer one of the most extraordinary peculiarity on the planet. It is in this grand ocean side, where the ocean meets a stream and a lake. Indeed, this isn't it! Poovar estuary is likewise fills in as the conversion ground of the ocean side and land!
A quintessential presentation of intriguing widely varied vegetation, this ocean side depicts a lot of customary methods of waterfront residing where fishing has a significant impact of day to day existence. Arranged around 12km from Kovalam, Poovar Beach has acquired enormous ubiquity as a well known outing spots among the ocean side darlings and different kinds of guests.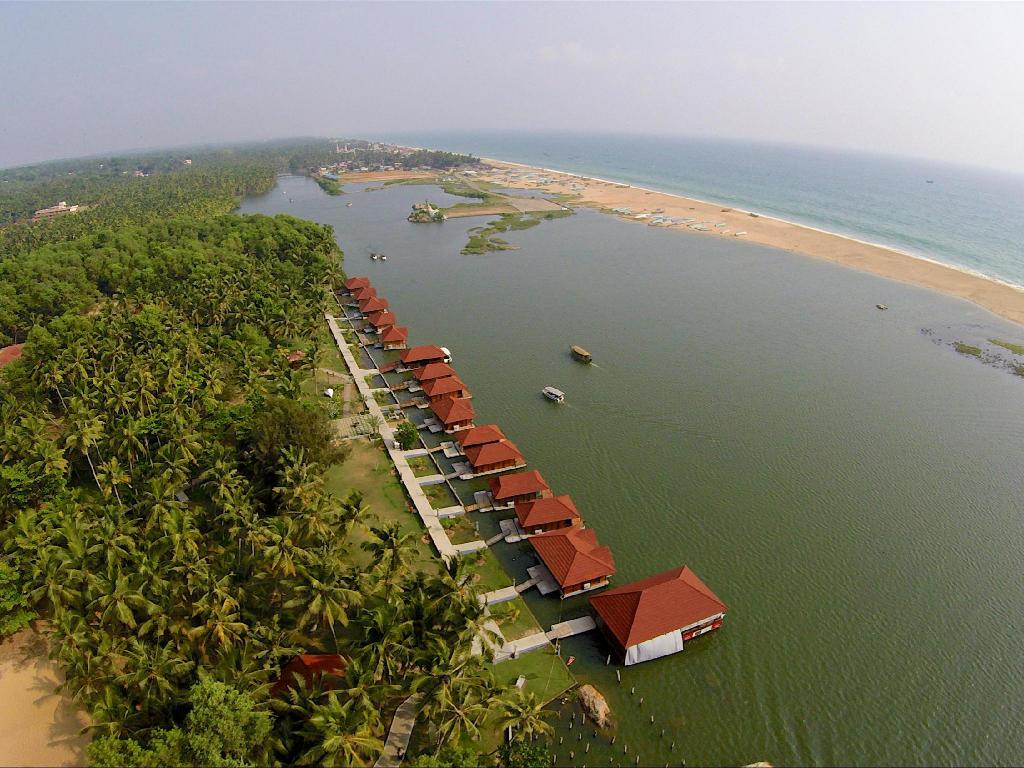 Best time to visit:
August (Mid-Monsoon) to March (Early Summer)
Tourist Attractions:
Poovar Beach, Thiruparappu Falls, Fishing Village, Kalipoika, Kozhipara, Thikkoti Light House
Nearest Airport:
Trivandrum International Airport (38km)
Nearest Railway Station:
Summer (March – May), Winter (November – February), Monsoon (June – October)
Thrissur:
In the event that you are a social fan or energetic about the rich practices of Kerala, Thrissur ought to be positioned as #1 in your travelog! Additionally called 'Trichur', this city was once the capital of Kingdom of Cochin, and is affectionately called the 'Cultural Capital of Kerala'.
Being edged with various terrified sanctuaries and other strict spots, Thrissur fills in as a significant journey among the Hindu lovers. Indeed, this city is the scene ground of the popular 'Sanctuary Festival' or the 'Thrissur Pooram' that is known and taken part by enthusiasts from across the globe.
Visit the city during this celebration, and you will find the whole Trichur joining together and commending the celebration with high force and equivalent energy!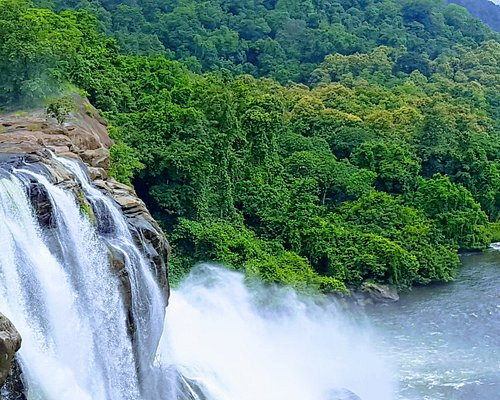 Best time to visit:
Year-round Destination / April to May (Thrissur Pooram is celebrated)
Tourist Attractions:
Chavakkad Beach, Nattika Beach, Vatanappally Beach, Athirapally Waterfalls, Guruvayoor, Peechi Dam, Peechi-Vazhani Wildlife Sanctuary, Thrisuur Zoo, Chimmony Wildlife Sanctuary, Chimmony Dam, Thrissur Pooram, Archaeological Museum, PunnathurKotta, Sri Maheswara Temple, Lourdes Cathedral, Marth Mariam Church, Vaddakunathan Temple, Thiruvambadi Sri Krishna Temple, Dolours Basilica, ParamekkavuBhagavathy Temple, Arattupuzha Temple.
Nearest Airport:
Kochi International Airport (67km)
Nearest Railway Station:
Thrissur Railway Station
Ponmudi:
Assuming you actually believe that Kerala is about backwaters, strong sea, energetic sea beaches, zest nurseries, or evergreen coconut forests, you should visit the dazzling slope station called Ponmudi! Around 55km away from the state capital, this promising slope station will make you reevaluate and make an entirely different insight God's Own Country!
Charmed by the hypnotizing magnificence of the Western Ghats, a drive or ride to Ponmudi has its own tomfoolery and fervor. While for the nature sweethearts, this piece of the excursion opens an obscure window to Kerala's entrancing excellence, adrenaline searchers love to have a tryst with the rushes related.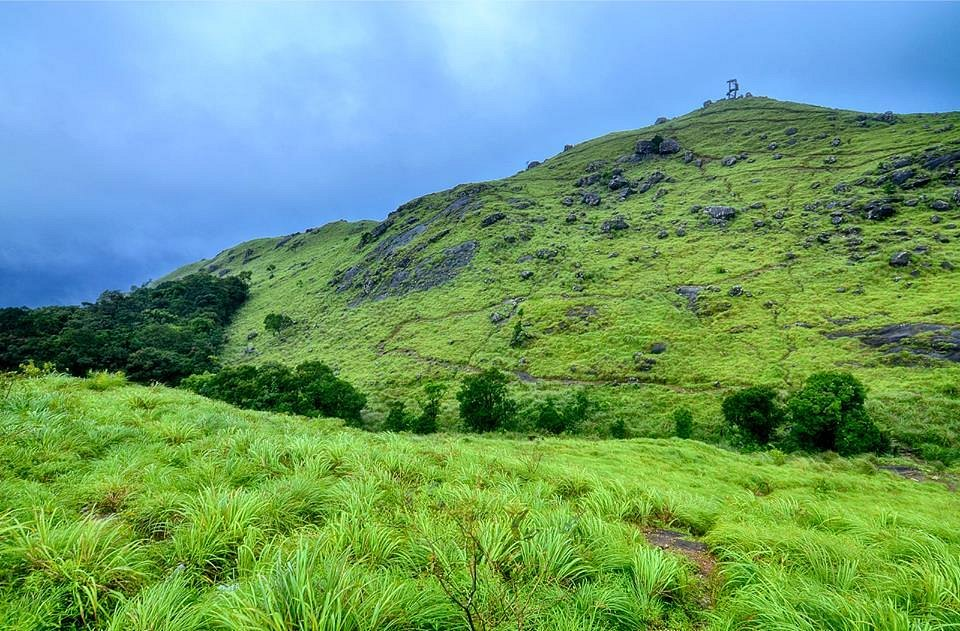 Best time to visit:
November (Post Monsoon) to May (Summer End)
Tourist Attractions:
Trivandrum International Airport (67km)
Nearest Airport:
Trivandrum International Airport (67km)
Nearest Railway Station:
Trivandrum Central Railway Station (61km)